Recently I did a 30 minute radio segment with Bonnie Compton of WholeHearted Parenting. The subject of our segment was Creating Family Connection Through Creativity. It's a subject that has come up for me quite a bit lately – a topic that I originally hit upon in my Future Craft Collective Days working alongside the fun and talented Kathie Sever (now of Ft Lonesome fame which you should totally check out!) Kathie and I created a lot of really fun projects during those years encouraging families to sit down and Make Stuff Together, encouraging kids to find ways to re-use and upcycle and create their own unique style. Heck we even wrote a book about it!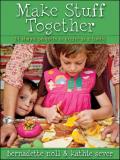 I'm happy to be on this topic again for it is one that is near and dear to my heart – this idea of creating, making, crafting, upcycling, and finding connection through the entire process. If you have 30 minutes to listen in, I encourage you to do so. Bonnie and I hit on some really good points and, perhaps most importantly, we had a really fun time with the process. Which is, really, what it's all about. No matter what we're working on.
So, check out our past Future Craft Collective Projects now on Craftzine. Peruse Make Stuff Together for some creative ideas for your family. (FYI, It's REALLY cheap now used!) Check out Kathie's current line of artistry at Ft. Lonesome. And have a listen in on my conversation with Bonnie. I guarantee that by the time you're through, you'll be MORE than ready to work on some creativity of your own.
Tags:
Bonnie Compton
,
creating family connection
,
creating with family
,
creative families
,
ft lonesome
,
future craft collective
,
Kathie Sever
,
make stuff together
,
Whole Hearted Parenting